Aquilegia canadensis
Aquilegia canadensis L.
Aquilegia australis Small
Aquilegia canadensis L. var. australis (Small) Munz
Aquilegia canadensis L. var. coccinea (Small) Munz
Aquilegia canadensis L. var. eminens (Greene) B. Boivin
Aquilegia canadensis L. var. hybrida Hook.
Aquilegia canadensis L. var. latiuscula (Greene) Munz
Aquilegia coccinea Small
Aquilegia latiuscula Greene
Aquilegia phoenicantha Cory
Red Columbine, American Columbine, Eastern Columbine, Canada Columbine, Meetinghouses, Rock Bells, Honeysuckle, Rock Lily, Cluckies, Jack-in-trousers, Wild Honeysuckle, Granny's Bonnets, Dancing Fairies, Wild Columbine
| | | |
| --- | --- | --- |
| Kingdom | Plantae | Plants, but not fungi, lichens, or algae (from Stearn's Botanical Latin) |
| Subkingdom | Tracheobionta | Vascular plants—plants with a "circulatory system" for delivering water and nutrients |
| Division | Magnoliophyta | Flowering plants, also known as angiosperms |
| Class | Magnoliopsida | Dicotyledons—plants with two initial seed leaves |
| Subclass | Magnoliidae | Includes magnolias, nutmeg, bay laurel, cinnamon, avocado, black pepper, and many others |
| Order | Ranunculales | Basal (evolved earlier) eudicots, also called "true dicots" |
| Family | Ranunculaceae | Buttercup family |
| Genus | Aquilegia | From Latin aquila, or "eagle," for the flower's resemblence to an eagle's claw |
| Species | canadensis | "From Canada" |
Red columbine, one of the prettiest darned flowers I've ever seen, are native to North America. The genus Aquilegia means eagle-like, a reference to the talon-like spurs on the back of each flower. Columbines are related to buttercups.
Identification: Plants are 12-30" (30-76 cm) high, with red to green stems. Leaves are at the base, and also along the stem, divided into progressively smaller groups of three. They are up to 3" (7.6 cm) long. The flowers have five parts and are about 1¼" (3.2 cm) in length. They vary from light pink to deep red in color, with yellow centers, and bloom from April to July. The spurs on the back of each flower are unique in shape, the best identifying characteristic. They favor forest floors and cliffs. See other columbines.
Edibility: Poisonous.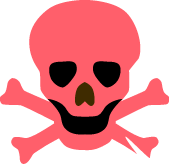 The seeds and roots are highly poisonous, and the leaves of many other members of the buttercup family are poisonous.
Online References:
Aquilegia canadensis on Earl J.S. Rook's Flora, Fauna, Earth, and Sky ... The Natural History of the Northwoods
Aquilegia canadensis on Missouriplants.com
Aquilegia canadensis at Illinois Wildflowers
Aquilegia canadensis on the USDA Plants Database
Aquilegia canadensis at the University of Wisconsin's Robert W. Freckmann Herbarium
Aquilegia canadensis on Discover Life
References:
Newcomb, Lawrence, Morrison, Gordon (Illus.), Newcomb's Wildflower Guide, Little, Brown and Company, 1977, p. 228
Peterson, Roger Tory, McKenny, Margaret, Peterson Field Guides: A Field Guide to Wildflowers of Northeastern and North Central North America, Houghton Mifflin, 1968, p. 216
Aquilegia canadensis description by Thomas H. Kent, last updated 30 May 2016.