Chelidonium majus
Chelidonium majus L.
Greater Celandine, Celandine
| | | |
| --- | --- | --- |
| Kingdom | Plantae | Plants, but not fungi, lichens, or algae (from Stearn's Botanical Latin) |
| Subkingdom | Tracheobionta | Vascular plants—plants with a "circulatory system" for delivering water and nutrients |
| Division | Magnoliophyta | Flowering plants, also known as angiosperms |
| Class | Magnoliopsida | Dicotyledons—plants with two initial seed leaves |
| Subclass | Magnoliidae | Includes magnolias, nutmeg, bay laurel, cinnamon, avocado, black pepper, and many others |
| Order | Papaverales | A group that includes buttercups and other poisonous plants |
| Family | Papaveraceae | Poppy family |
| Genus | Chelidonium | From Greek chelidon, "swallow," because it was believed that C. majus flowered when the swallows nest during summer |
| Species | majus | "Bigger, larger" |
This native of Eurasia was introduced to North America, where it is now widespread.
Identification: Greater celandine reaches 18-24" (45-60 cm) in height. Leaves contain an irritating yellow-orange sap. Leaves are up to 6" (15 cm) long and 3" (7.6 cm) wide, green with a slight bluish tint. Seed capsules look like thin beans, 1-2½" (2.5-6.3 cm) long, with black seeds. These can be confused with Stylophorum diphyllum, (celandine poppy), but seeds of the celandine poppy are oval in shape, about 1" (2.5 cm) long, densely hairy, and divided into four segments. Greater celandine cannot be confused with lesser celandine.
Edibility: Poisonous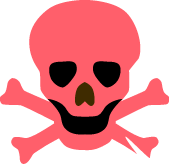 Stem juice is toxic and extremely irritating and allergenic. Paralysis, nausea, vomiting, coma, respiratory tract irritation, violent coughing, ulcers, and dyspnoea have been attributed to this plant.[1]. More recently, it has been implicated in liver disease as well.[2]
Medical: Greater celandine has been used for many different medical purposes historically (see footnotes 1 and 2), but I don't believe any of these uses have been confirmed with research.
Online References:
Chelidonium majus on Ontario Wildflowers
Chelidonium majus at Illinois Wildflowers
Chelidonium majus from all-creatures.org
Chelidonium majus on Plants for a Future, a resource and information centre for edible and otherwise useful plants
Chelidonium majus on CalPhotos
Chelidonium majus at Minnesota Wildflowers
Chelidonium majus description by Thomas H. Kent, last updated 30 May 2016.

Range: