Lamprocapnos spectabilis
Lamprocapnos spectabilis (L.) Fukuhara
Dicentra spectabilis (L.) Lem.
Bleeding Hearts
| | | |
| --- | --- | --- |
| Kingdom | Plantae | Plants, but not fungi, lichens, or algae (from Stearn's Botanical Latin) |
| Subkingdom | Tracheobionta | Vascular plants—plants with a "circulatory system" for delivering water and nutrients |
| Division | Magnoliophyta | Flowering plants, also known as angiosperms |
| Class | Magnoliopsida | Dicotyledons—plants with two initial seed leaves |
| Subclass | Magnoliidae | Includes magnolias, nutmeg, bay laurel, cinnamon, avocado, black pepper, and many others |
| Order | Papaverales | A group that includes buttercups and other poisonous plants |
| Family | Fumariaceae | Fumitory, fumewort, or bleeding-heart family |
| Genus | Lamprocapnos | From Greek lampros, "shining," and Latin capno, "head" |
| Species | spectabilis | |
Bleeding hearts have very attractive pink heart-shaped flowers. They are native to Siberia, Japan, Korea, and northern China. They are very popular in U.S. gardens.
Identification: All bleeding-hearts have pillowy, heart-shaped flowers with a white longer petal hanging from the bottom. See Dicentra for a comparison table.
Edibility: Poisonous.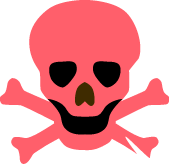 May also cause a rash in some people.
Online References:
Lamprocapnos spectabilis at the Missouri Botanical Garden
Lamprocapnos spectabilis on Perennial Resource
Lamprocapnos spectabilis on Dave's Garden
Lamprocapnos spectabilis on CalPhotos
Lamprocapnos spectabilis on Plants for a Future, a resource and information centre for edible and otherwise useful plants
Lamprocapnos spectabilis description by Thomas H. Kent, last updated 16 Aug 2013.

Range: Zones 3-9: