Aconitum × cammarum 'Eleanor'
Monkshood
| | | |
| --- | --- | --- |
| Kingdom | Plantae | Plants, but not fungi, lichens, or algae |
| Subkingdom | Tracheobionta | Vascular plants—plants with a "circulatory system" for delivering water and nutrients |
| Division | Magnoliophyta | Flowering plants, also known as angiosperms |
| Class | Magnoliopsida | Dicotyledons—plants with two initial seed leaves |
| Subclass | Magnoliidae | Includes magnolias, nutmeg, bay laurel, cinnamon, avocado, black pepper, and many others |
| Order | Ranunculales | Basal (evolved earlier) eudicots, also called "true dicots" |
| Family | Ranunculaceae | Buttercup family |
| Genus | Aconitum | The ancient Greek name of this plant, loosely translated as "unconquerable poison" |
| Species | cammarum | Having tuberous roots |
| Cultivar | 'Eleanor' | |
Monkshoods, members of the buttercup family, are attractive but dangerously poisonous plants. They are native to Europe, but not North America. This one is a cultivated variety. Aconitum × cammarum, from which this cultivar was developed, was first described by Linnaeus himself.
Identification: Plants are up to 3' (1 m) high, blooming from early summer to early fall. Leaves are alternate, dark green, shiny, and deeply divided. This cultivar has copious flowers that are white, outlined in blue-violet. Some are almost entirely white, while these are predominantly blue. They appear from July to August.
Edibility: Poisonous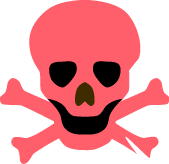 All monkshoods are extremely poisonous, especially the roots or green seedpods. They contain several diterpenoid alkaloids, including aconitine, mesaconitine, napelline, and hypaconitine. The poison can be absorbed through cuts or even directly through the skin, so careful handling is essential. Symptoms include tingling and burning in the mouth and lips, abdominal pain, excessive salivation, intense thirst, vomiting, diarrhea, headache, reduced heart rate, paralysis, confusion, visual disturbances, and convulsions. Death can occur in a few minutes, or as much as 24 hours after ingestion.
Online References:
Aconitum × cammarum 'Eleanor' in Paghat's Garden
Aconitum × cammarum 'Eleanor' on www.aacc.org
References:
Turner, Nancy J.; von Aderkas, Patrick, The North American Guide to Common Poisonous Plants and Mushrooms: How to Identify More than 300 Toxic Plants and Mushrooms Found in Homes, Gardens, and Open Spaces, Timber Press, 2009, p. 253
Aconitum × cammarum 'Eleanor' description by Thomas H. Kent, last updated 25 May 2020.

Range: Zones 3a-8b: