Aloe marlothii A. Berger
Aloe ferox var. xanthostachys
Aloe spectabilis
Aloe supralaevis var. hanburyi
Flat-flowered aloe, bergaalwyn
| | | |
| --- | --- | --- |
| Kingdom | Plantae | Plants, but not fungi, lichens, or algae |
| Subkingdom | Tracheobionta | Vascular plants—plants with a "circulatory system" for delivering water and nutrients |
| Division | Magnoliophyta | Flowering plants, also known as angiosperms |
| Class | Liliopsida | Monocots (plants with a single seed leaf); includes the lily family |
| Subclass | Liliidae | Includes lilies, orchids, and many others |
| Order | Asparagales | A diverse group that includes asparagus |
| Family | Xanthorrhoeaceae | Aloes, many tropical plants, flax lilies, daylilies, many others |
| Genus | Aloe | Means "goddess" in ancient Sanskrit, for its reputed use as a beauty aid; some sources suggest that the name comes from Alloeh, meaning "shining bitter substance" |
| Species | marlothii | |
This hearty aloe grows to 12-18' (3.7-5.5 m) in height. It is a South African native.
Identification: This large aloe has a single stem, and is 6½-13' (2-4 m) tall. Leaves are gray-green to bluish-green, up to 5' (1.5 m) × 10" (25 cm) in size, broader than those of many aloes and tapering to a sharp tip. Maroon-colored teeth with orange tips occur along the leaf margins, and the leaf surfaces have spines. The brilliant flower clusters, varying from yellow to orange or bright red, are its standout feature. A variant, Aloe spectabilis, is no longer considered a distinct species.
Edibility: Poisonous.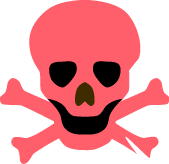 Some parts of this plant are toxic.
Online References:
Aloe marlothii on pza.sanbi.org
Aloe marlothii on Desert-tropicals.com
Aloe marlothii on Wikipedia
Aloe marlothii at the Kew Royal Botanic Gardens
Aloe marlothii on Succulents.co.za
Aloe marlothii from Made-in-Afrika
Aloe marlothii description by Thomas H. Kent, last updated 25 May 2020.