Asarum canadense
Asarum canadense L.
Asarum acuminatum (Ashe) E.P. Bicknell
Asarum canadense L. var. acuminatum Ashe
Asarum canadense L. var. ambiguum (E.P. Bicknell) Farw.
Asarum canadense L. var. reflexum (E.P. Bicknell) B.L. Rob.
Asarum reflexum E.P. Bicknell
Asarum rubrocinctum Peattie
Wild Ginger, Canada Wild Ginger, Canadian Snakeroot, Broad-leaved Asarabaccais
| | | |
| --- | --- | --- |
| Kingdom | Plantae | Plants, but not fungi, lichens, or algae |
| Subkingdom | Tracheobionta | Vascular plants—plants with a "circulatory system" for delivering water and nutrients |
| Division | Magnoliophyta | Flowering plants, also known as angiosperms |
| Class | Magnoliopsida | Dicotyledons—plants with two initial seed leaves |
| Subclass | Magnoliidae | Includes magnolias, nutmeg, bay laurel, cinnamon, avocado, black pepper, and many others |
| Order | Aristolochiales | Includes gingers |
| Family | Aristolochiaceae | Birthwort family |
| Genus | Asarum | Wild ginger |
| Species | canadense | Canadian wild ginger |
Canada wild ginger is native to North America. It is protected in Maine as a threatened species.
Identification: This ginger is a low-growing plant that does not exceed 12" (30 cm) in height. Leaves are heart-shaped, velvet green, 3-4" (7.6-10 cm) long. Flowers are a distinctive purple-brown color, a central cup shape surrounded by three fused sepals and no petals. They somewhat resemble trillium flowers.
Edibility: Poisonous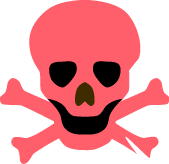 Although the cooked roots have been used as a ginger substitute and, by some indigenous peoples, a medication, is it carcinogenic and toxic enough to injure the liver and kidneys.
Online References:
Asarum canadense at Illinois Wildflowers
Asarum canadense on Missouriplants.com
Asarum canadense on Perry's Perennial Pages at the University of Vermont
Asarum canadense in Paghat's Garden
Asarum canadense on eFloras
Asarum canadense description by Thomas H. Kent, last updated 12 Oct 2018.