Berteroa incana (L.) DC.
Alyssum incanum L.
Hoary alyssum, hoary alison, hoary false alyssum, sandvita, hoary asylum
| | | |
| --- | --- | --- |
| Kingdom | Plantae | Plants, but not fungi, lichens, or algae |
| Subkingdom | Tracheobionta | Vascular plants—plants with a "circulatory system" for delivering water and nutrients |
| Division | Magnoliophyta | Flowering plants, also known as angiosperms |
| Class | Magnoliopsida | Dicotyledons—plants with two initial seed leaves |
| Subclass | Rosidae | Roses, legumes, proteas, dogwoods, hydrangeas, mistletoes, euphorbias, grapes, many more |
| Order | Brassicales | Mustard, cabbage, caper, papaya, nasturtiums, many others; most produce mustard oil |
| Family | Brassicaceae | Mustards, cabbages |
| Genus | Berteroa | Named for Chilean-Italian botanist Carlo Guiseppe Bertero |
| Species | incana | "Gray" |
Hoary alyssum is native to Asia and parts of Europe, but it has become naturalized in North America and other areas in Europe. It is now widespread, and often considered to be an invasive. It is a member of the mustard family. Bees, who, unlike us, can see ultraviolet light, have probably noticed that hoary alyssum buds glow in ultraviolet light. Curiously, it is the buds, not the flowers.
Identification: Hoary alyssum creates a loose tangle of stems lined with small grasslike leaves near the base, fruits along the upper portion, and a small cluster of white flowers on the top. Stems may reach up to 3' (1 m) in length, and are rarely branched. Leaves are alternate, 1¾-3" (5-8 cm) × ⅜" (1 cm), narrowly rounded at the tips. Flowerheads are composed of many small flowers. Each flower contains four petals, but they are so deeply notched that they appear to be eight petals. Petals are ⅛-¼" (5-7 mm) long, with thick yellow-green stamens. Fruits are tiny ovals, or cylinders with rounded ends, ⅛" (3.2 mm) long, with sharp tips. Fruits are on short stems less than ¼" (6.3 mm) long, oriented along the direction of growth.
Edibility: Poisonous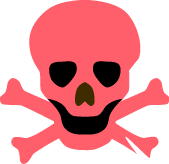 Well, poisonous if you are a horse, anyway. About half of the horses that eat this plant react with swelling, fever, elevated heart rate, and rarely death. Other serious symptoms have been reported. I couldn't find specific information about toxicity to people, but I'm not about to sample it.
Online References:
Berteroa incana on Missouriplants.com
Berteroa incana on SEINet—the Southwest Environmental Information Network
Berteroa incana at Minnesota Wildflowers
Berteroa incana on the University of Massachusetts Landscape, Nursery & Urban Forestry Program
Berteroa incana description by Thomas H. Kent, last updated 25 May 2020.

Range: