Cornus florida L.
Benthamidia florida (L.) Spach
Cynoxylon floridum (L.) Raf. ex B.D. Jacks.
Flowering dogwood
| | | |
| --- | --- | --- |
| Kingdom | Plantae | Plants, but not fungi, lichens, or algae |
| Subkingdom | Tracheobionta | Vascular plants—plants with a "circulatory system" for delivering water and nutrients |
| Division | Magnoliophyta | Flowering plants, also known as angiosperms |
| Class | Magnoliopsida | Dicotyledons—plants with two initial seed leaves |
| Subclass | Asteridae | A large class that encompasses asters |
| Order | Cornales | Includes dogwoods, hydrangeas, stickleafs, tupelos, even sillyberries |
| Family | Cornaceae | Dogwood family |
| Genus | Cornus | Latin for "a horn" |
| Species | florida | Either (1) free flowering, producing abundant flowers; or (2) bright |
Flowering dogwoods are common North American native plants in the wild, also popular in cultivated plantings.
Identification: Flowering dogwood is somewhere between a large bush, at a typical 15' (4.6 m) in height, and a small tree, at up to 30' (9.1 m). It has a single trunk and rounded crown typical of a tree. The trunk bark separates into square blocks or scales about 1" (2.5 cm) across as the tree ages. Leaves are opposite, 4-8" (10-20 cm) long and half as wide, with smooth edges and prominent veins, turning red to deep reddish purple in the fall. Flowers are white, and up to 4" (10 cm) across. Okay, I lied: in fact, the flowers are green (!), a small inconspicuous disc in the center of what appears to be the flower. The familiar white petals are actually bracts—modified leaves. Fruits are bright red, oval, ¼-½" (6.3-12 mm) long, in small tight clusters.
Edibility: Poisonous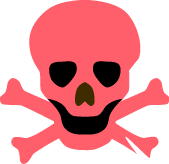 Though favored by many types of wildlife, the bright red berries are poisonous to people.
Online References:
Cornus florida on www.carolinanature.com
Cornus florida on floridata.com
Cornus florida on plants.ces.ncsu.edu
Cornus florida at the USDA Forest Service's Silvics of North America site
Cornus florida at the University of Florida Environmental Horticulture site
References:
Sibley, David Allen, The Sibley Guide to Trees, Alfred A. Knopf, 2009, p. 356
Petrides, George A., Peterson Field Guides: Trees and Shrubs, Houghton Mifflin Co., 1972, p. 76, 106
Little, Elbert L., National Audabon Society Field Guide to North American Trees, Eastern Region, Alfred A. Knopf, 1980, p. 76, 615
Dirr, Michael A., Dirr's Hardy Trees and Shrubs, Timber Press, 1997, p. 104
Symonds, George W.D., Shrub Identification Book, HarperCollins Publishers Inc., 1963, p. 98
Symonds, George W. D.; photos by Chelminski, Stephen V., The Tree Identification Book, Harper, 2003, p. 112
Cornus florida description by Thomas H. Kent, last updated 25 May 2020.

Range: Zones 5-9a: