Kalmia latifolia L.
Kalmia latifolia L. var. laevipes Fernald
Mountain laurel, spoonwood, ivybush, calico bush, lambkill, clamoun
| | | |
| --- | --- | --- |
| Kingdom | Plantae | Plants, but not fungi, lichens, or algae |
| Subkingdom | Tracheobionta | Vascular plants—plants with a "circulatory system" for delivering water and nutrients |
| Division | Magnoliophyta | Flowering plants, also known as angiosperms |
| Class | Magnoliopsida | Dicotyledons—plants with two initial seed leaves |
| Subclass | Asteridae | A large class that encompasses asters |
| Order | Ericales | Tea, persimmon, blueberry, Brazil nut, azalea, many others |
| Family | Ericaceae | Heath or heather family |
| Genus | Kalmia | Named by Linnaeus to honour his friend the Finnish botanist Pehr Kalm |
| Species | latifolia | Latin for "wide to broad leaves" |
Mountain laurel is native to eastern North America, found at edges of dense woods or throughout mature hardwood and pine forests where light levels are fairly high. The common name reflects its widespread presence in mountain forests, but it is also common closer to sea level. This is a popular landscaping plant, and many cultivars exist.
Identification: Plants are 6½-30' (2-9 m) high, usually growing as shrubs but reaching tree size in some areas. Its multiple branches are characteristically crooked, and gray or cinnamon-colored, depending upon age. The shape may be compact or uneven, with irregular branches and uneven foliage. Leaves are shiny, 1-4½" (3-12 cm) × ⅜-1½" (1-4 cm), roughly oval (technically elliptical), with smooth edges and pointed tips. Leaves are usually dark green, but become lighter in high amounts of sunlight. Flowers occur in numerous attractive 4-6" (10-15 cm) clusters that appear from May to July. Each flower is bowl-shaped, ¾-1" (1.9-2.5 cm) in diameter, with five overlapping petals, white or pink with rose-colored spots.
Edibility: Poisonous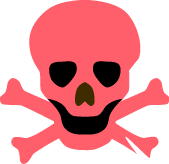 Mountain laurel foliage is toxic to horses, cattle, goats, sheep, deer, monkeys, and humans.
Online References:
Kalmia latifolia on Wikipedia
Kalmia latifolia on www.carolinanature.com
Kalmia latifolia at the Lady Bird Johnson Wildflower Center
Kalmia latifolia at the University of Connecticut Plant Database
Kalmia latifolia on Plants for a Future, a resource and information centre for edible and otherwise useful plants
Kalmia latifolia on plants.ces.ncsu.edu
Kalmia latifolia on the USDA Forest Service's Fire Effects Information Database
Kalmia latifolia on SEINet—the Southwest Environmental Information Network
Kalmia latifolia description by Thomas H. Kent, last updated 25 May 2020.