Robinia pseudoacacia L.
Robinia pseudoacacia L. f. inermis (Mirb.) Rehder
Robinia pseudoacacia L. var. pyramidalis Pepin
Robinia pseudoacacia L. var. rectissima (L.) Raber
Black locust
| | | |
| --- | --- | --- |
| Kingdom | Plantae | Plants, but not fungi, lichens, or algae |
| Subkingdom | Tracheobionta | Vascular plants—plants with a "circulatory system" for delivering water and nutrients |
| Division | Magnoliophyta | Flowering plants, also known as angiosperms |
| Class | Magnoliopsida | Dicotyledons—plants with two initial seed leaves |
| Subclass | Rosidae | Roses, legumes, proteas, dogwoods, hydrangeas, mistletoes, euphorbias, grapes, many more |
| Order | Fabales | Legumes (pea and bean families) |
| Family | Fabaceae | Legume family (peas and beans) |
| Genus | Robinia | Parisians Jean and Vespasian Robin, gardeners to Henri IV and Louis XIII, first to cultivate locust trees |
| Species | pseudoacacia | "Looks like Acacia" |
Black locust is native to the southeastern United States. It has been planted and become naturalized in temperate parts of Europe, Africa, Asia, Australia, and North America. In some areas it has become common to invasive. They spread by seed or by producing extensive suckers, creating large clonal colonies, and require plenty of sun. There are many cultivars.
Plants: These deciduous trees reach 40-100' (12-30 m), with trunks up to 24-48" (60-121 cm) in diameter. Bark is light brown or dark gray brown, ridged and furrowed, with bits of red or orange visible in grooves. Young trees are spiny, but mature trees often lack spines. Branches are zigzagged, rounded or grooved, changing from silvery to pale green, then to reddish or brown.
Leaves: Leaves are alternate, odd pinnate, 6-14" (15-35 cm) long, divided into 7 to 23 small leaflets. Leaflets are elliptic, and dark blue-green, lighter beneath. Dark purple prickers develop from stipules at leaf bases, ¼-¾" (6.3-20 mm) long, each with a flared base and sharp tip.
Flowers: Large, beautiful hanging racemes of scented flowers, 4-8" (10-20 cm) long. The flower clusters resemble wisteria. Flowers are creamy white, or rarely pink or purple, each about 1" (2.5 cm) in size. The calyx at the base of each flower is reddish-purple. They appear in May-June and last for only 7 to 10 days.
Fruits: Flat, smooth, dark orange-brown pea-like pods 2-4" (5-10 cm) long, with 4-8 kidney-shaped seeds. They persist all winter.
Edibility: Poisonous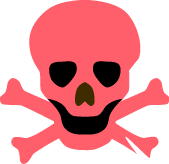 Bark, young leaves, and seeds are poisonous if eaten. Poisoning symptoms include depres­sion, weakness, dilated pupils, vomiting, bloody diarrhea, weak pulse, coldness of arms and legs, paleness, and shock. Flowers, however, are edible. After soaking in warm water for several minutes to remove dirt, flowers can be battered and deep fried, or chopped and added to muffin or pancake batter.
Online References:
Robinia pseudoacacia on Wikipedia
Robinia pseudoacacia on powo.science.kew.org
Robinia pseudoacacia at the Virginia Tech Department of Forest Resources and Environmental Conservation
Robinia pseudoacacia at the Missouri Botanical Garden
Robinia pseudoacacia on plants.ces.ncsu.edu
Robinia pseudoacacia on wric.ucdavis.edu
Robinia pseudoacacia description by Thomas H. Kent, last updated 25 May 2020.

Range: Zones 3-8: