Tanacetum vulgare L.
Chrysanthemum vulgare (L.) Bernh.
Tanacetum boreale Fisch. ex DC.
Tanacetum vulgare L. var. crispum DC.
Common tansy, golden buttons, curly leaf tansy, tansy, bitter buttons
| | | |
| --- | --- | --- |
| Kingdom | Plantae | Plants, but not fungi, lichens, or algae |
| Subkingdom | Tracheobionta | Vascular plants—plants with a "circulatory system" for delivering water and nutrients |
| Division | Magnoliophyta | Flowering plants, also known as angiosperms |
| Class | Magnoliopsida | Dicotyledons—plants with two initial seed leaves |
| Subclass | Asteridae | A large class that encompasses asters |
| Order | Asterales | Flowering plants with a central disk flower and surrounding petals, like daisies |
| Family | Asteraceae | The aster family, which also includes daisies and sunflowers; from the Greek ἀστήρ, "star," for the star-shaped flowers |
| Genus | Tanacetum | From the medieval Latin name tanazita, in turn derived from Greek athanasia, "immortality," of uncertain application to this taxa |
| Species | vulgare | Latin for "common" |
Common tansy is native to Eurasia, but widespread through­out cooler parts of North America, probably intro­duced by settlers who valued its alleged medicinal pro­perties. (The name "tansy" derives from the Greek ἀθανασία, or athanasia, meaning immortality: it was once used for embalming in hopes of achieving this.) It is common in disturbed sites such as roadsides, river banks, out-of-use sites, and old fields, preferring bright sun. Many plant it in gardens. In some habitats tansy is con­sidered invasive.
Plants: Plants are robust perennials reaching 6½' (2 m) in size, though most are under 3' (1 m). Stems grow singly or in clusters, and are coarse, grooved, and angular, branch­ing near the top. Roots are woody and often coiled.
Leaves: Leaves are alternate, very finely divided, and toothed. They smell like camphor when crushed, and are 2-12" (5-30 cm) long. The odor is variously described as "rank" or "aromatic." (If you crush the leaves and don't smell this odor, there's a good chance you have the similar-appearing Tanacetum bipinnatum subsp. huron­ense, which is endangered or threatened in some locales.)
Flowers: Flowerheads are composed of dense flat-topped clusters of 20-100 yellow disk florets, each up to ½" (1.3 cm) around. The individual florets are often likened to buttons. Most florets resemble the center of a daisy, and lack the daisy's "petals," technically called ray flowers. Some tansy florets have short ray flowers though. Tansies bloom from from July to October.
Fruits: Florets produce many achenes ¹/₃₂-¹/₁₆" (1-1.8 mm) long.
Edibility: Poisonous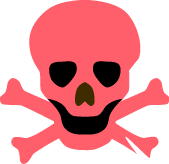 Causes a rapid, weak pulse and stomach pains in lower doses, and can cause death in larger quantities. Leaves are bitter-tasting, and avoided by many (but not all) livestock. In small quantities young leaves and flowers, soaked in water, are used sparingly as a substitute for sage, to flavor dishes.
Medical: Tansy was once widely used for a variety of ail­ments, but modern herbalists generally avoid it. It contains thujone, also present in the wormwood from which the spirit absinthe is made. Thujone is a GABAA receptor antagonist, toxic to brain, kidney, and liver cells, causing muscle spasms and convulsions in larger amounts. Thujone was once thought to stimulate cannabinoid receptors, thus causing some of the same symptoms as marijuana, but this has since been proven false.
Online References:
Tanacetum vulgare on the USDA Forest Service's Fire Effects Information Database
Tanacetum vulgare at the Minnesota Department of Natural Resources
Tanacetum vulgare on plants.ces.ncsu.edu
Tanacetum vulgare on www.webmd.com
References:
Clemants, Steven; Gracie, Carol, Wildflowers in the Field and Forest, Oxford University Press, 2006, p. 182
Tanacetum vulgare description by Thomas H. Kent, last updated 25 May 2020.