Actaea rubra f. neglecta (Gillmann) B.L.Rob.
Actaea arguta var. eburnea (Rydb.) Cockerell
Actaea arguta var. alabastrina Lunell.
Actaea eburnea Rydb.
Actaea neglecta Gillman
White-fruited red baneberry
| | | |
| --- | --- | --- |
| Kingdom | Plantae | Plants, but not fungi, lichens, or algae |
| Subkingdom | Tracheobionta | Vascular plants—plants with a "circulatory system" for delivering water and nutrients |
| Division | Magnoliophyta | Flowering plants, also known as angiosperms |
| Class | Magnoliopsida | Dicotyledons—plants with two initial seed leaves |
| Subclass | Magnoliidae | Includes magnolias, nutmeg, bay laurel, cinnamon, avocado, black pepper, and many others |
| Order | Ranunculales | Basal (evolved earlier) eudicots, also called "true dicots" |
| Family | Ranunculaceae | Buttercup family |
| Genus | Actaea | From ancient Greek, signifying a wet habitat and its leaves' similarity to Sambucus leaves |
| Species | rubra | From the Latin ruber or rubra meaning "red" |
| f. | neglecta | Neglected or overlooked |
Seriously? You've got your white-fruited baneberry. Your red-fruited baneberry. A type of white-fruited baneberry that produces red fruit. And this, a type of red-fruited baneberry that produces white fruit. Go figure. White-fruited red baneberry is a North American native, though the only information I can find on the natural species is that Kew Gardens lists the species name as an accepted name. A few gardening outlets list it.
Plants: White-fruited red baneberry is 12-36" (30-91 cm) high.
Leaves: On all of the baneberries, leaves often occur in groups of three, on thin stems, and are saw-toothed. Individual leaves are somewhat divided into three sections.
Flowers: Flowerheads are roughly spherical (racemes) of small white or purple flowers ¼" (6.3 mm) across, with a roselike odor. Flowerheads appear soft and feathery. They appear in May.
Fruits: Berries are oval when green, becoming rounder and white when ripe.
Edibility: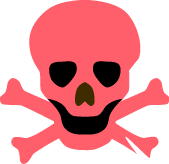 All parts of this plant are poisonous. Causes burning of the mouth and throat, salivation, stomach cramps, headache, diarrhea, dizziness, and hallucinations. Berries have caused fatalities in children.
Some variants are compared below: