Ageratina altissima 'Chocolate'
White snakeroot, tall boneset, white sanicle
| | | |
| --- | --- | --- |
| Kingdom | Plantae | Plants, but not fungi, lichens, or algae |
| Subkingdom | Tracheobionta | Vascular plants—plants with a "circulatory system" for delivering water and nutrients |
| Division | Magnoliophyta | Flowering plants, also known as angiosperms |
| Class | Magnoliopsida | Dicotyledons—plants with two initial seed leaves |
| Subclass | Asteridae | A large class that encompasses asters |
| Order | Asterales | Flowering plants with a central disk flower and surrounding petals, like daisies |
| Family | Asteraceae | The aster family, which also includes daisies and sunflowers; from the Greek ἀστήρ, "star," for the star-shaped flowers |
| Genus | Ageratina | Snakeroots |
| Species | altissima | Means "the highest" |
| Cultivar | 'Chocolate' | Named for the darker foliage |
White snakeroot is a member of the sprawling aster family, and a North American native. This cultivated variety, 'Chocolate,' has darker-tinted foliage.
Identification: Plants are 3-5′ (91-152 cm) high, and up to 3′ (91 cm) around, with single or multiple stems. Leaves are 2-5″ (5-12 cm) long, lance-shaped, and tapering at both ends; lower leaves are broader, more heart-shaped. Each leaf has three prominent veins and serrated edges. Leaf stems (petioles) are ½-1½″ (1.3-3.8 cm) long. Flowerheads are somewhat dome-shaped clusters, each with 10-30 white brushlike flowers with no petals. Each flower is about ⅛″ (4 mm) around.
Edibility: Poisonous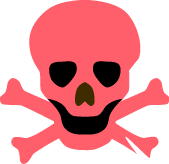 This plant contains tremetol, toxic to people and many animals. Milk from cows that have eaten snakeroot can be poisonous to people as well—this is called milk sickness.
Online References:
Wikipedia (Ageratina altissima)
References:
Newcomb, Lawrence, Morrison, Gordon (Illus.), Newcomb's Wildflower Guide, Little, Brown and Company, 1977, p. 434 (listed as Eupatorium altissimum)
Ageratina altissima 'Chocolate' description by Thomas H. Kent, last updated 25 May 2020.

Range: Zones 4a-8b: