Anemone canadensis L.
Anemonidium canadense (L.) Á. Löve & D. Löve
Anemonidium canadense (L.) A. Löve & D. Löve
Canada anemone, round-leaf thimbleweed, windflower, meadow anemone, Canadian anemone
| | | |
| --- | --- | --- |
| Kingdom | Plantae | Plants, but not fungi, lichens, or algae |
| Subkingdom | Tracheobionta | Vascular plants—plants with a "circulatory system" for delivering water and nutrients |
| Division | Magnoliophyta | Flowering plants, also known as angiosperms |
| Class | Magnoliopsida | Dicotyledons—plants with two initial seed leaves |
| Subclass | Magnoliidae | Includes magnolias, nutmeg, bay laurel, cinnamon, avocado, black pepper, and many others |
| Order | Ranunculales | Basal (evolved earlier) eudicots, also called "true dicots" |
| Family | Ranunculaceae | Buttercup family |
| Genus | Anemone | From Greek anemos, "wind" |
| Species | canadensis | "From Canada" |
The Canadian anemone is also found throughout the northern US, except west of the Rocky Mountains.
Identification: These members of the buttercup family have flowers that look a bit like white buttercups, with pale yellow centers. They reach up to 9-24" (22-60 cm) in height. Each stem is hairy, and has a single group of 3- to 5-parted leaves. Leaves near the base are deeply divided. Each flower is 1-1½" (2.5-3.8 cm) in diameter, with five white petals (well, sepals that look like petals). Flowers occur in groups of one to three. Fruits are achenes—that is, the fruit encloses a single large seed. They are about ⅛-³/₁₆" (4-6 mm) in size.
Edibility: Poisonous.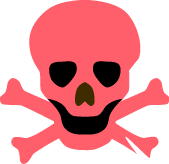 Symptoms: Inflammation and blistering upon contact with fresh sap; irritation and pain in the mouth, vomiting and diarrhea following ingestion.[1]
Online References:
Anemone canadensis on Missouriplants.com
Anemone canadensis at the Lady Bird Johnson Wildflower Center
Anemone canadensis on Wikipedia
Anemone canadensis at the Missouri Botanical Garden
Anemone canadensis at Illinois Wildflowers
Anemone canadensis on CalPhotos
Anemone canadensis on Plants for a Future, a resource and information centre for edible and otherwise useful plants
Anemone canadensis on eFloras
Anemone canadensis description by Thomas H. Kent, last updated 25 May 2020.