Arisaema triphyllum (L.) Schott
Jack-in-the-pulpit, bog onion, brown dragon, Indian turnip, wake robin, wild turnip, jack-in-the-pulput
| | | |
| --- | --- | --- |
| Kingdom | Plantae | Plants, but not fungi, lichens, or algae |
| Subkingdom | Tracheobionta | Vascular plants—plants with a "circulatory system" for delivering water and nutrients |
| Division | Magnoliophyta | Flowering plants, also known as angiosperms |
| Class | Liliopsida | Monocots (plants with a single seed leaf); includes the lily family |
| Subclass | Alismatidae | Aquatic and marshy plants |
| Order | Alismatales | Herbaceous flowering plants found in marshy habitats |
| Family | Araceae | Arum family, with plants whose flower is enclosed in a spathe |
| Genus | Arisaema | Greek aris, a kind of arum, and haema, for "blood" |
| Species | triphyllum | |
Jack-in-the-pulpits are generally between 1-2½′ (38-76 cm) high. The flowers on this plant are small, in the form of a spadix, a small column with tiny flowers. They are covered by a hood, from which the name is derived.
Identification: The flower spike can be several inches in length, appearing in April to May. The hood (called the spadix) has zebra-like stripes on the inside. The leaves are in groups of three, looking somewhat like poison ivy leaves. The flowers turn to berries that become bright red in the fall.
Edibility: Poisonous.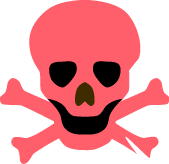 Jack-in-the-pulpit contains calcium oxalate and asparagine. The former causes a burning sensation. A few American Indian cultures may have processed this plant to remove its toxins and consumed it, though.
Online References:
The Lady Bird Johnson Wildflower Center
Plants for a Future, a resource and information centre for edible and otherwise useful plants
Arisaema triphyllum description by Thomas H. Kent, last updated 25 May 2020.

Range: Zones 4-9: