Asclepias incarnata L.
Swamp milkweed, rose milkweed, swamp silkweed, white Indian hemp, scarlet milkweed
| | | |
| --- | --- | --- |
| Kingdom | Plantae | Plants, but not fungi, lichens, or algae |
| Subkingdom | Tracheobionta | Vascular plants—plants with a "circulatory system" for delivering water and nutrients |
| Division | Magnoliophyta | Flowering plants, also known as angiosperms |
| Class | Magnoliopsida | Dicotyledons—plants with two initial seed leaves |
| Subclass | Asteridae | A large class that encompasses asters |
| Order | Gentianales | Gentians, coffee, gardenias, frangipani, many others |
| Family | Asclepiadaceae | Includes some herbs, twining shrubs, lianas, leafless stem succulents, rarely trees |
| Genus | Asclepias | For Asklepios, the Greek god of healing |
| Species | incarnata | Literally, "in the flesh," in this case meaning flesh-colored, for the flowers |
Swamp milkweed is a North American native plant with a fondess for mucky soils.
Identification: Plants are erect, 3-5′ (1-1.5 m) in height, often occurring in clumps. Stems are usually branched, green or often purple in color. Like other milkweeds, stems and leaves emit a milky latex that contains a toxic brew that helps to protect the plant from predators. Swamp milkweeds produce less of this sap than the other species though. Leaves are opposite, lanceolate, 2½-6″ (7-15 cm) long, with smooth edges and pinnate, featherlike veins. They have sharp tips and rounded bases. Flowerheads are rounded umbels composed of many pink to mauve to dark purple (rarely white) flowers. Flowers are five-petaled, with a cinnamon-like fragrance, and appear from June to October. Seed pods are green, up to 4½″ (12 cm) long. They split open when dry, releasing large numbers of seeds, each on a silken parachute.
Edibility: Poisonous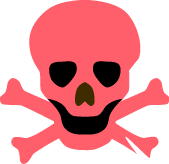 All parts of the plant contain cardiac glycosides and resinoids, making it moderately poisonous. Vomiting, stupor, weakness and spasms are among the symptoms.
Online References:
The Lady Bird Johnson Wildflower Center
The USDA Forest Service's Fire Effects Information Database
Asclepias incarnata description by Thomas H. Kent, last updated 6 Sep 2021.

Range: Zones 3-6: