Baptisia tinctoria (L.) R. Br.
Baptisia gibbesii Small
Baptisia tinctoria (L.) R. Br. var. crebra Fernald
Baptisia tinctoria (L.) R. Br. var. projecta Fernald
Wild indigo, yellow false indigo, horseflyweed
| | | |
| --- | --- | --- |
| Kingdom | Plantae | Plants, but not fungi, lichens, or algae |
| Subkingdom | Tracheobionta | Vascular plants—plants with a "circulatory system" for delivering water and nutrients |
| Division | Magnoliophyta | Flowering plants, also known as angiosperms |
| Class | Magnoliopsida | Dicotyledons—plants with two initial seed leaves |
| Subclass | Rosidae | Roses, legumes, proteas, dogwoods, hydrangeas, mistletoes, euphorbias, grapes, many more |
| Order | Fabales | Legumes (pea and bean families) |
| Family | Fabaceae | Legume family (peas and beans) |
| Genus | Baptisia | From Greek baptizein, "to dye," because members of this genus were used to prepare dye |
| Species | tinctoria | Derived from Latin tinctura, "dyeing": A plant that produces a color or stain when broken |
Yellow false indigo's scientific name (both Baptisia and tinctoria mean "dye") derives from its use as an inferior substitute for real indigo, an unrelated plant, for the manufacture of dye. Wild indigo is a native of North America.
Identification: Wild indigo is multiply branched and somewhat unruly, sometimes matted in appearance, 12-36" (30-91 cm) high. In Martha's Vineyard, MA, it forms a ball-shaped cluster that breaks off when it dries out in the fall and rolls around like tumbleweed. Leaves are alternate, silvery green, in triplets similar to clover. Each leaflet is ¼" (6.3 mm) long. Clusters of yellow, pea-like flowers appear in July.
Edibility: Poisonous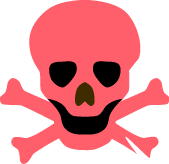 :
Physiological Action—When fresh and taken in a sufficiently large dose Baptisia causes violent vomiting and purging. In poisonous doses there is an acceleration of respiration and reflex activity followed by death from central paralytic asphyxia.[1]
Online References:
Baptisia tinctoria at the Missouri Botanical Garden
Baptisia tinctoria on www.henriettes-herb.com
Baptisia tinctoria on Wikipedia
Baptisia tinctoria on Plants for a Future, a resource and information centre for edible and otherwise useful plants
Baptisia tinctoria at the Lady Bird Johnson Wildflower Center
Baptisia tinctoria on the Connecticut Botanical Society's Connecticut wildflowers site
Baptisia tinctoria description by Thomas H. Kent, last updated 25 May 2020.