Beaucarnea recurvata Lem.
Nolina recurvata
Dasylirion recurvatum
Ponytail palm, elephant's foot palm, bottle palm
| | | |
| --- | --- | --- |
| Kingdom | Plantae | Plants, but not fungi, lichens, or algae |
| Subkingdom | Tracheobionta | Vascular plants—plants with a "circulatory system" for delivering water and nutrients |
| Division | Magnoliophyta | Flowering plants, also known as angiosperms |
| Class | Liliopsida | Monocots (plants with a single seed leaf); includes the lily family |
| Subclass | Liliidae | Includes lilies, orchids, and many others |
| Order | Asparagales | A diverse group that includes asparagus |
| Family | Asparagaceae | Agaves, asparagus, hyacinths, and others |
| Genus | Beaucarnea | For 19th century Belgian collector of succulents Jean-Baptiste Beaucarne |
| Species | recurvata | Curved backwards |
The ponytail palm is not a true palm, though it is easy to understand why it is often mistaken for one. It is native to South Africa and central and southeastern Mexico.
Plants: Reaches 20-33' (6-10 m) in height, with a trunk 8-16" (20-40 cm) in diameter. Its caudex, a swelling at the base of the plant, stores water, and is the reason for the name "elephant's foot palm."
Leaves: Evergreen, linear, strap-shaped, 20-71" (50-180 cm) × ½-⅞" (1.5-2.5 cm), with finely serrated edges. The caudex can be as large as 9½' (3 m) in diameter.
Flowers: Only older trees (more than ten years old) produce flowers, which appear on large showy panicles 30-43" (75-110 cm) long. The panicles are large, but the flowers are tiny, ¹/₃₂" (1.5 mm) in diameter. They are greenish-white, with six tepals.
Fruits: Capsules about ⅜" (1.2 cm) long.
Edibility: Poisonous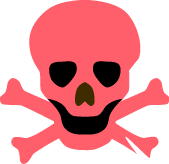 I found this listed in the US Food and Drug Administration's Poisonous Plant Database, though I was not able to find details about it.
Online References:
Beaucarnea recurvata on Dr. Giuseppe Mazza's PhotoMazza.com site
Beaucarnea recurvata on www.revolvy.com
Beaucarnea recurvata description by Thomas H. Kent, last updated 25 May 2020.