Datura stramonium L.
Datura stramonium L. var. tatula (L.) Torr.
Datura tatula L.
Jimson weed, devil's trumpet, devil's weed, thorn apple, tolguacha, Jamestown weed, stinkweed, locoweed, datura, pricklyburr, devil's cucumber, hell's bells, moonflower, Jimsonweed
| | | |
| --- | --- | --- |
| Kingdom | Plantae | Plants, but not fungi, lichens, or algae |
| Subkingdom | Tracheobionta | Vascular plants—plants with a "circulatory system" for delivering water and nutrients |
| Division | Magnoliophyta | Flowering plants, also known as angiosperms |
| Class | Magnoliopsida | Dicotyledons—plants with two initial seed leaves |
| Subclass | Asteridae | A large class that encompasses asters |
| Order | Solanales | Potatoes, eggplants, tomatoes, peppers, tobacco, petunias, sweet potatoes, morning glories, many others |
| Family | Solanaceae | Nightshade or potato family |
| Genus | Datura | From dhatura, an ancient Hindu word for a plant |
| Species | stramonium | Spiky-fruited, and a name used by Theophrastus for the thorn-apple |
Datura stramonium has many faces. It's a weed! It's a poison! It's a medicine! It's a recreational drug! It's a pretty flower! It's a munitions dump purifier! "Loco weed" refers to this species' ability to induce delirium and hallucinations in people, but there are unrelated plants also called locoweeds, including members of Oxytropis and Astralagus in North America, that are toxic to animals. Sources differ as to whether jimsonweed is native to North America or imported from the Old World. "Jimsonweed" is a corruption of "Jamestown weed"—read on to find out what happened to a group of Jamestown settlers who sampled the plant.
Identification: This non-woody bush grows to 3-5' (91-152 cm) in height, with stiff, hollow stems that are green or purple. Toothed, wrinkly leaves are 3-8" (7.6-20 cm) × 1-6" (2.5-15 cm). Flowers are large, attractive, trumpet-shaped, and pleasant-smelling, though the plant is malodorous. Flowers are 2½-3½" (6.3-8.9 cm) long, white, cream-colored, purple, or white with a purple center. They usually open only partially, unfurling to produce a spiral, pinwheel-like effect. Fruits are a densely thorny egg-shaped capsule 1" (2.5 cm) in diameter, consisting of four segments, and containing many dark brown or black seeds.
Edibility: Poisonous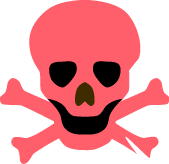 All parts of this plant contain a witch's brew of tropane alkaloids, a mixture that varies in potency by as much as a factor of two, and a mixture that changes depending upon the age of the plant. These alkaloids can cause poisoning, semi-blindness or impaired vision (lasting a week or more), depressed breathing, delirium and fever, loss of short term memory, and hallucinations. In addition to many other symptoms, it is a vasodilator; it dries mucous membranes uncomfortably; and it causes tachycardia (very fast heartbeats). Sometimes the leaves are confused with spinach leaves. Animals typically avoid this species because of its strong odor and unpleasant taste.
Medical: Toxic plants, by virtue of the fact that they effect the body at all, can often be adapted for medicinal purposes, and this species is no exception. Medications derived from its several active ingredients can treat cholinergenic overdose, urinary tract infections, premenstrual syndrome, heart ailments, and dilate your eyes at eye exams. Historically, scopolamine was used to "treat" pregnant women during labor. It wasn't much help, but the short term amnesia it created erased memories of the pain.
Jimsonweed is sometimes used as a recreational drug, but the potency varies and the threshold between a safe dose and a lethal dose is unpredictable. It is often described as a deliriant rather than a hallucinogen, since it induces very unpredictable behavior. In anthropologist Carlos Castaneda's books, the first of which is The Teachings of Don Juan: A Yaqui Way of Knowledge, he describes his experiences with this drug, given to him by a Yaqui Indian shaman.
Here is an account by Robert Beverly of Jamestown settlers' experiences, from The History and Present State of Virginia, in Four Parts:
Flowers
Flowers are smaller, 2½-5" (6.3-12 cm) × 1-2" (2.5-5 cm), trumpet-shaped, fragrant, white, cream-colored, purple, or white with a purple center. They usually open only partially, unfurling to produce a spiral, pinwheel-like effect.
Large, 5-9" (12-22 cm) long, fragrant, trumpet-shaped, and white, cream-colored, or purplish. They have several segments, with small points at the edges between them.