Daucus carota L.
Daucus carota L. ssp. carota
Daucus carota L. ssp. sativus (Hoffm.) Arcang.
Queen Anne's lace, wild carrot, bird's nest, bishop's lace
| | | |
| --- | --- | --- |
| Kingdom | Plantae | Plants, but not fungi, lichens, or algae |
| Subkingdom | Tracheobionta | Vascular plants—plants with a "circulatory system" for delivering water and nutrients |
| Division | Magnoliophyta | Flowering plants, also known as angiosperms |
| Class | Magnoliopsida | Dicotyledons—plants with two initial seed leaves |
| Subclass | Asteridae | A large class that encompasses asters |
| Order | Apiales | Includes carrots, celery, parsley, and ivy |
| Family | Apiaceae | Carrot or parsley family, also includes angelica, anise, caraway, celery, chervil, cicely, coriander/cilantro, cumin, dill, fennel, hemlock, lovage, Queen Anne's Lace, parsnip |
| Genus | Daucus | Ancient Greek name for this genus |
| Species | carota | From Greek karoton, "carrot" |
Queen Anne's lace, or wild carrot, is native throughout North America. The carrots we eat are a subspecies of this plant, Daucus carota subsp. sativus.
Identification: Plants are up to 3' (91 cm) tall, smelling exactly like carrots. Foliage is relatively sparse, finely divided, looking like that of yarrow or carrots. Flowers appear in dense white umbrella-shaped or flat-topped flowerheads atop long spindly-looking hairy stems. Each flowerhead is composed of dozens of tiny 5-petaled flowers. As the flowers age, the flowerheads become convex as the centers sink, eventually folding up into a ball-shaped "nest" the protects the fruits developing within.
Plant
3-6' (91-182 cm) in height.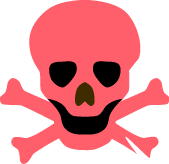 Extremely poisonous
Up to 3' tall, with leaves so finely divided as to look featherlike, with "feathers" up to 9" long
Grows to 3' in height. Plant smells like carrots.
Flowers
Small white flowers about ⅛" (3.2 mm) across occur in small separated groups, resembling little parasols. Each flower has 5 petals and 5 stamens. The "parasols" are arranged into umbrella-shaped flowerheads.
Densely packed clusters of tiny white flowers, flat-topped or umbrella-shaped. (Cultivars may be yellow, red, or many other colors.) Flowers have 4-6 petals; each petal has three lobes.
Pale pink before opening. When open, forms an umbrella-shaped flower cluster up to 3" across, composed of tiny 5-petaled flowers.