Metopium toxiferum (L.) Krug & Urb.
Amyris toxifera L.
Poisonwood, Florida poisontree, hog gum
| | | |
| --- | --- | --- |
| Kingdom | Plantae | Plants, but not fungi, lichens, or algae |
| Subkingdom | Tracheobionta | Vascular plants—plants with a "circulatory system" for delivering water and nutrients |
| Division | Magnoliophyta | Flowering plants, also known as angiosperms |
| Class | Magnoliopsida | Dicotyledons—plants with two initial seed leaves |
| Subclass | Rosidae | Roses, legumes, proteas, dogwoods, hydrangeas, mistletoes, euphorbias, grapes, many more |
| Order | Sapindales | Includes citrus; maples, horse-chestnuts, lychees and rambutans; mangos and cashews; frankincense and myrrh; mahogany and neem |
| Family | Anacardiaceae | Cashew or sumac family |
| Genus | Metopium | New Latin, from Metopium, genus of trees including the black poison; from Latin, juice from a species of Ferula; from Greek metōpion, diminutive of metōpon, a species of Ferula; probably from metōpon, "forehead" |
| Species | toxiferum | Presumably "toxic," but I cannot find a reference |
Poisonwood is native to the Caribbean region, including southern Florida, in shrublands and pine woodlands. It is related to poison oak, poison ivy, and poison sumac, and produces the same irritant, urushiol, which causes a maddening itchy, blistering rash.
Plants: Poisonwood ranges from a low shrub to a tree up to 49' (15 m) high and 16" (40 cm) in diameter. Bark is orange and brown, peeling in irregular plates.
Leaves: Leathery, alternate, odd pinnate in groups of 5-7, clustering at the tips of branches. Each leaf is ovate, up to 6-10" (15-25 cm) long × 2-3" (5-7.6 cm) wide, its margins slightly thickened. Spots of black resin appear irregularly. Leaf stems are smooth or with fine hairs, and swollen at the base.
Flowers: Flowers are in panicles.
Fruits: Berries (drupes) become orange-yellow when they ripen. Berries are roughly oval, about ⅜" (1 cm) in length.
Edibility: Poisonous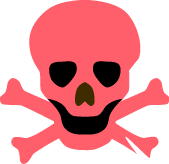 . Skin contact with any part of the tree produces severe irritation like that of poison ivy. Eating any part, or contact with smoke produced from its burning, is extremely dangerous. (Technically, not everyone is allergic.) Many birds and other animals can consume parts of the plant with no ill effects.
Online References:
Metopium toxiferum on florida.plantatlas.usf.edu
Metopium toxiferum at the University of Florida Institute of Food and Agricultural Sciences
Metopium toxiferum on www.levypreserve.org
Metopium toxiferum on Discover Life
Metopium toxiferum on florida.plantatlas.usf.edu
Metopium toxiferum description by Thomas H. Kent, last updated 25 May 2020.

Range: