Rhododendron viscosum (L.) Torr.
Azalea serrulata Small
Azalea viscosa L.
Rhododendron coryi Shinners
Rhododendron serrulatum (Small) Millais
Rhododendron viscosum (L.) Torr. var. aemulans Rehder
Rhododendron viscosum (L.) Torr. var. glaucum (Michx.) A. Gray
Rhododendron viscosum (L.) Torr. var. montanum Rehder
Rhododendron viscosum (L.) Torr. var. nitidum (Pursh) A. Gray
Rhododendron viscosum (L.) Torr. var. serrulatum (Small) H.E. Ahles
Rhododendron viscosum (L.) Torr. var. tomentosum Rehder
Swamp azalea, swamp-honeysuckle, Clammy azalea, hammocksweet azalea, Cory azalea
| | | |
| --- | --- | --- |
| Kingdom | Plantae | Plants, but not fungi, lichens, or algae |
| Subkingdom | Tracheobionta | Vascular plants—plants with a "circulatory system" for delivering water and nutrients |
| Division | Magnoliophyta | Flowering plants, also known as angiosperms |
| Class | Magnoliopsida | Dicotyledons—plants with two initial seed leaves |
| Subclass | Asteridae | A large class that encompasses asters |
| Order | Ericales | Tea, persimmon, blueberry, Brazil nut, azalea, many others |
| Family | Ericaceae | Heath or heather family |
| Genus | Rhododendron | From Greek rhodos, "rose," and dendron, "tree" |
| Species | viscosum | From the Latin viscosus, "sticky," in reference to the sticky substance excreted by glandular hairs on the corolla tubes of the flowers |
Swamp azalea is native to the eastern and southern United States. It prefers swampy lowland habitats with a uniform level of soil moisture.
Plants: Woody, evergreen or deciduous shrubs are 3-5' (91-152 cm) around, rarely reaching 8' (2.4 m) and (by some accounts) up to 12' (3.7 m) in width. They have a somewhat gangly habit.
Leaves: Alternate, lustrous, dark green, narrow, obovate to oblong-obovate, with blunt or short-pointed tips. In the fall, leaves turn orange or maroon.
Flowers: White to pale pink, 1¼-1¾" (3.2-4.4 cm) long, in clusters of 4-9. Each flower consists of a long, narrow, very sticky tube, flared at the end into a corolla of five fused petal-like lobes. Five stamens extend beyond the flower, with dramatic flair. Flowers have a sweet, musky, clove-like aroma—said to be the most aromatic of all azaleas. Blooms from May to July.
Fruits: Capsules are ¼-¾" (7-20 mm) × ⅛-¼" (3-7 mm), in dark brown clusters.
Edibility: Poisonous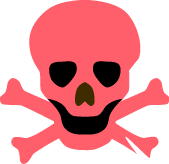 All parts of the plant are poisonous and may be fatal if eaten. The poison is adromedotoxin. Symptoms of poisoning include salivation, watering of eyes and nose, abdominal pain, loss of energy, depression, nausea and vomiting, diarrhea, weakness, difficulty breath­ing, program paralysis of extremities, and coma.
Online References:
Rhododendron viscosum at the Missouri Botanical Garden
Rhododendron viscosum on www.carolinanature.com
Rhododendron viscosum on tjhsst.edu
Rhododendron viscosum at the Lady Bird Johnson Wildflower Center
Rhododendron viscosum on plants.ces.ncsu.edu
Rhododendron viscosum on gobotany.nativeplanttrust.org
Rhododendron viscosum at Maine.gov's Department of Conservation Maine Natural Areas Program
Rhododendron viscosum on SEINet—the Southwest Environmental Information Network
Rhododendron viscosum description by Thomas H. Kent, last updated 25 May 2020.