Rhus copallinum L.
Rhus copallina L. orth. var.
Shining sumac, winged sumac
| | | |
| --- | --- | --- |
| Kingdom | Plantae | Plants, but not fungi, lichens, or algae |
| Subkingdom | Tracheobionta | Vascular plants—plants with a "circulatory system" for delivering water and nutrients |
| Division | Magnoliophyta | Flowering plants, also known as angiosperms |
| Class | Magnoliopsida | Dicotyledons—plants with two initial seed leaves |
| Subclass | Rosidae | Roses, legumes, proteas, dogwoods, hydrangeas, mistletoes, euphorbias, grapes, many more |
| Order | Sapindales | Includes citrus; maples, horse-chestnuts, lychees and rambutans; mangos and cashews; frankincense and myrrh; mahogany and neem |
| Family | Anacardiaceae | Cashew or sumac family |
| Genus | Rhus | From Greek rhous, ancient name for sumac |
| Species | copallinum | |
Winged sumac is a North American native plant. Rhus is the ancient Latin name for sumacs, and copallinum means "gum copal," because the dried sap resembles that of the copal tree. Sumac simply means "red," probably a reference to the berry color of most sumacs.
Identification: Winged sumac is a shrub or small tree that can reach 20' (6.1 m) in height, and up to 10' (3 m) around. Shiny, pointed oval-shaped leaves occur in opposing pairs along branches. Leaves are 1-4" (2.5-10 cm) long. (Technically, the branch full of leaves is a single pinnately compound leaf, which is up to 12" (30 cm) long.) The most unusual feature of this plant is the "wings"—small, long "leaves" that grow along the branch, between each set of leaves. In the fall, leaves turn burgundy red. Young branches have fine, velvety reddish-brown hairs, but much less so than those of close cousin staghorn sumac. Broken branches have clear sap, while other sumacs have a sticky white latex. Flowers are a drab yellowish green. Fruits are dense clusters of bright red berries, which often last through the winter, turning a darker shade.
Edibility: Poisonous.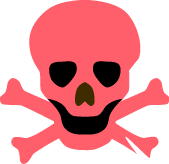 Okay, well, that isn't actually true. It isn't edible, but it isn't dangerous. But be careful not to confuse winged sumac with poison sumac. If you think poison ivy or poison oak are bad, you don't want to run into the much more toxic poison sumac, which some botanists consider the most poisonous plant in America. Poison sumac is relatively rare, and grows only in very wet areas. It lacks the wings of winged sumac and the fuzzy branches and toothed leaves of staghorn sumac.
Online References:
Rhus copallinum on www.carolinanature.com
Rhus copallinum on floridata.com
Rhus copallinum at the Virginia Tech Department of Forest Resources and Environmental Conservation
Rhus copallinum at Illinois Wildflowers
Rhus copallinum on Wikipedia
Rhus copallinum on the USDA Forest Service's Fire Effects Information Database
Rhus copallinum at the Lady Bird Johnson Wildflower Center
Rhus copallinum description by Thomas H. Kent, last updated 25 May 2020.

Range: