Veratrum californicum Durand
Corn lily, California corn lily
| | | |
| --- | --- | --- |
| Kingdom | Plantae | Plants, but not fungi, lichens, or algae |
| Subkingdom | Tracheobionta | Vascular plants—plants with a "circulatory system" for delivering water and nutrients |
| Division | Magnoliophyta | Flowering plants, also known as angiosperms |
| Class | Liliopsida | Monocots (plants with a single seed leaf); includes the lily family |
| Subclass | Liliidae | Includes lilies, orchids, and many others |
| Order | Liliales | Includes lilies, tulips, trilliums, greenbriars, and others |
| Family | Melanthiaceae | Trillium family |
| Genus | Veratrum | Latin for "dark roots"; also the ancient name of Hellebore |
| Species | californicum | Of or from California |
California corn lily is native to mountain meadows in southwestern North America and the Rocky Mountains.
Identification: This plant's leaves resemble those of corn (or corn husks), leading to the unfortunate name "wild corn" as well as corn lily—unfortunate because this plant is poisonous to people and animals. Leaves are up to 15" (38 cm) long and 7" (17 cm) wide, strongly veined; plants reach six feet in height. Flowers have six petals, and are green, with white tips and yellow stamens.
Edibility: Poisonous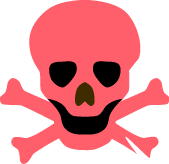 All parts of the plant are poisonous, and roots are 5-10 times worse than other parts. Highly toxic alkaloids effect the heart and nervous system. Poisoning causes birth defects in sheep. Poisoning symptoms include excessive salivation or frothing; irregular gait; vomiting; fast, irregular heartbeat; show, shallow breathing; coma; convulsions.
Online References:
Veratrum californicum on the U.S. Department of Agriculture's Agricultural Research Service
Veratrum californicum on CalPhotos
Veratrum californicum on Vascular Plants of the Gila Wilderness
Veratrum californicum on Wikipedia
Veratrum californicum on Wildflowers, Ferns & Trees of Colorado, New Mexico, Arizona, and Utah
Veratrum californicum at Yosemite National Park
Veratrum californicum at the Lady Bird Johnson Wildflower Center
Veratrum californicum from the Jepson Manual
Veratrum californicum description by Thomas H. Kent, last updated 25 May 2020.